Picture Perfect
Jun 29 2022
Showcasing the craftsmanship that our team put into each Somerset Willow Coffin is hugely important to us at Somerset Willow. We try to do each coffin justice in our imagery, and reflecting the natural aspect of the coffin in its surroundings is a key part of that. Getting out into nature is a big part of the job, and is something we love and enjoy, so we thought we'd take you behind the scenes to see the inner workings of how we get our favourite shots.
In short, it's all in the planning. Often the times when we have taken our best shots, the day has been meticulously planned ahead of time. We'll have checked out the location beforehand, selected the coloured bands and handles on the coffin to match the scenery and chosen a beautiful floral arrangement with our local florist to complement all these elements. However, not always does everything come together as we'd hoped, the best-laid plans often go awry…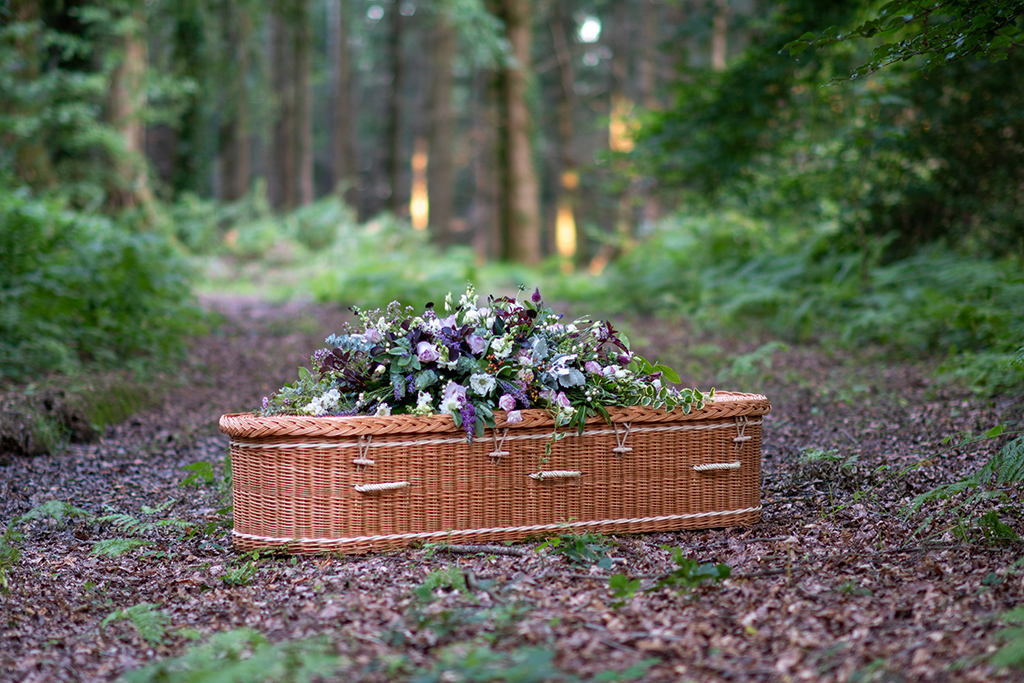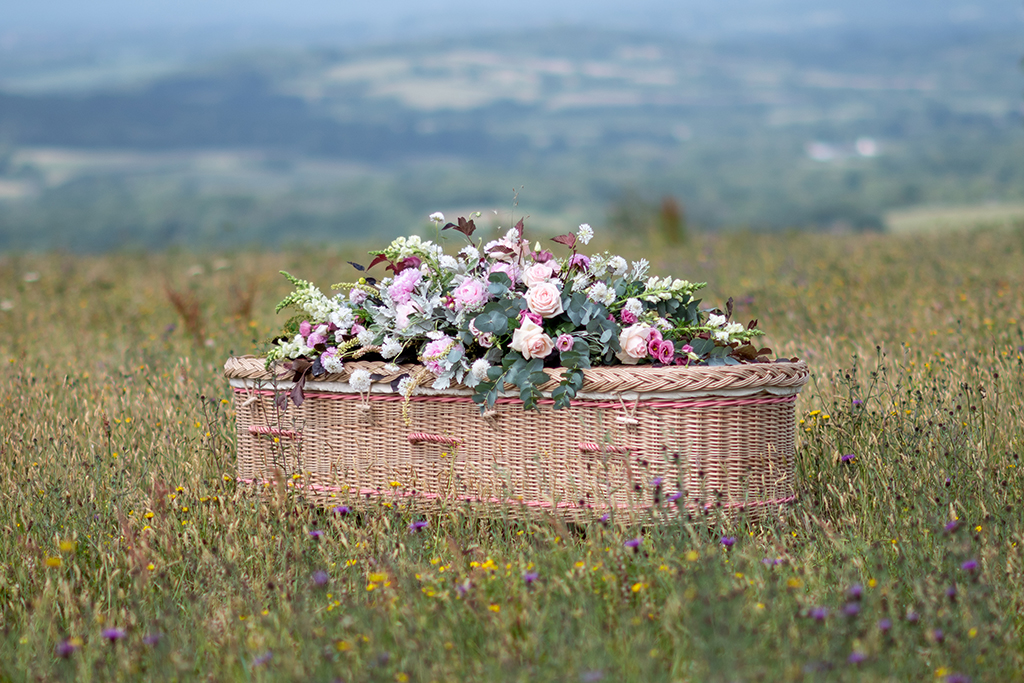 The fundamental element that we have no control over is nature itself. When the weather doesn't play ball, it can be incredibly difficult to get a good photo. It can't be too sunny or the photos can look washed-out and lose all the vibrancy of the real colours. You also have the problem of taking photos into the sun and having too much of a shadow on the coffin itself. The obvious issue is rain in this country.
We encountered this a lot more last summer which was a huge challenge to navigate. Trying to find a day with decent weather, which was incredibly changeable, to coincide with fresh flowers and a day we were available to get out was a logistical nightmare. One particular day we decided to head out to Dorset, a good 2-hour drive in our van, on a seemingly risky weather day – sunny one moment and rainy the next according to our unreliable weather forecast. Regardless, we ventured out in the hopes we'd catch a sunny spell, desperate to make use of our beautiful fresh flowers. It wasn't raining when we arrived but it was so misty that we couldn't see more than a few feet ahead of us. Certainly a fail that day, as well as a learning curve to avoid tourist hot spots at all costs in the summer holidays – even on a misty day!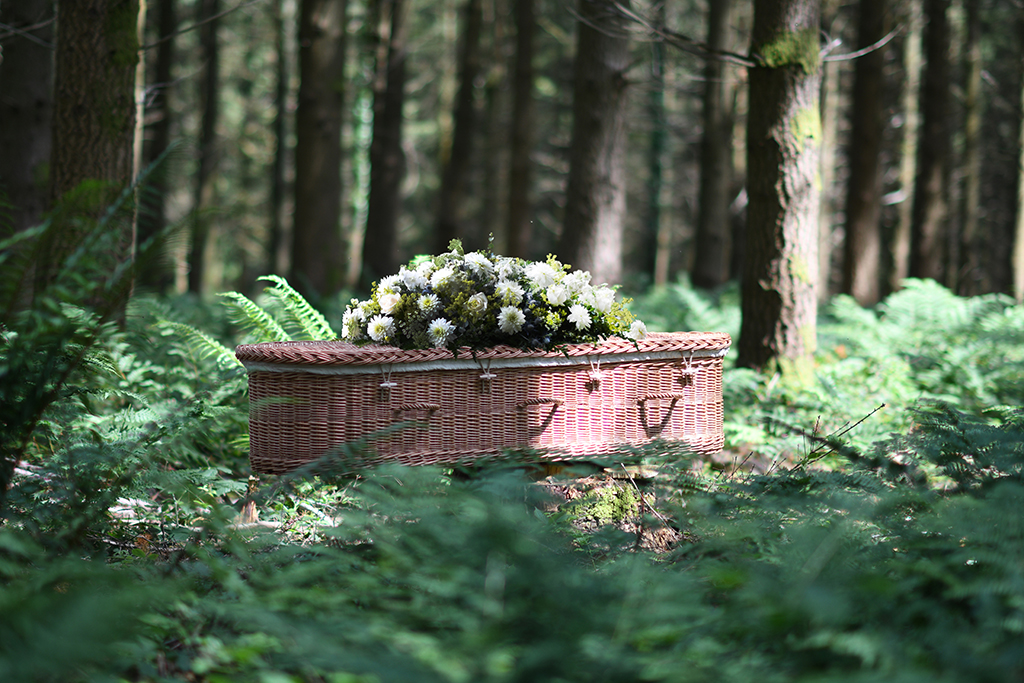 Finding the perfect spot for our coffin to take centre stage is equally as important. Not only has the backdrop got to look great, but also the foreground in front of the coffin. Muddy patches or cow pats aren't the prettiest of sights! We also have to be careful with how far away the intended spot is from a carpark that can accommodate a van. Trekking with a coffin is not easy, and neither is finding a natural spot that is a short distance from a parking space.
Often the most dramatic and rugged landscapes are in the middle of nowhere with not-so-great access. This strikes out a lot of our location ideas. Nevertheless, in our hunt, we have found some excellent locations, and in doing so, it has taken us to some of the most beautiful places around our area. We are so lucky to have access to picturesque landscapes on our doorstep in Somerset and its surrounding areas. From heady heights on cliff tops to winding rivers and sunrises on pebble beaches. You'd be surprised at what you might find if you venture out. My personal favourite, whilst probably one of our simpler landscapes, was a sprawling wildflower meadow. Colours of bright yellow and fuchsia poked through the long grasses like little hidden gems, complimenting the coffin well. It also had a breath-taking view of rolling hills in the background. It couldn't have been more perfect.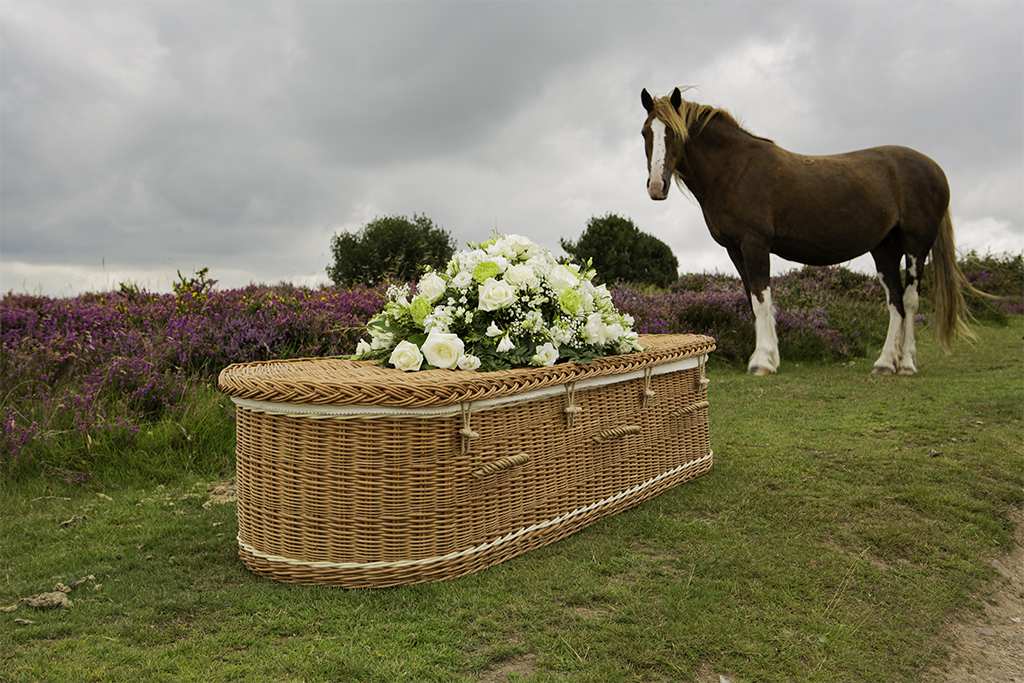 During many of our photoshoots, being in the heart of the rural countryside, nature has quite naturally wanted to be involved. From cows and sheep wandering by, to a horse getting in on the action! We've even managed to get photos with butterflies hovering over our sweet-smelling floral arrangements, which has been a lovely touch for our photos. Getting in touch with nature like this allows us to appreciate it more, and highlights why we do what we do.
We hope this glimpse behind the scenes shows you a little more about us and what goes on to capture the images you may see on our brochures, website and social media. It may even inspire you to venture out with your camera to find some amazing views yourself!